T. S. Eliot...on the city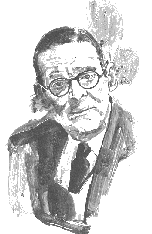 What life have you if you have not life together?
There is no life that is not in community...
* * *
And now you live dispersed on ribbon roads,
And no man knows or cares who is his neighbour
Unless his neighbour makes too much disturbance,
But all dash to and fro in motor cars,
Familiar with the roads and settled nowhere.
Nor does the family even move about together,
But every son would have his motor cycle,
And daughters ride away on casual pillions.
* * *
When the stranger says "What is the meaning of this City?
Do you huddle close together because you love each other?"
What will you answer? "We all dwell together
To make money from each other"? or "This is a community"?


- The Rock, 1934